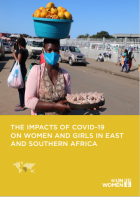 This study builds on UN Women's achievements and experience in supporting women and girls during the COVID pandemic within the East and Southern Africa Region and other parts of the world.
This analytical study covered ten countries in the region and looked at issues of access to justice for women and girls in East and Southern Africa.
This executive brief is a synthesis of key findings and recommendations from a multi country analytical study by UN Women on child marriage in Africa covering ten countries selected due to their comparatively higher prevalence of child marriage in the continent and globally.