"HOW-TO-DO" TOOLKIT for the UNCT-SWAP Gender Equality SCORECARD - West and Central Africa region.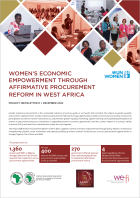 The Project Affirmative Procurement Reform in West Africa supports women economic empowerment through policy reforms, institutional strengthening of public sector institutions and capacity building of women-owned/-led businesses to access procurement opportunities in Senegal, Nigeria, Cote d'Ivoire and Mali. This newsletter is distributed every six months, covering the journey of the project implementation across the most important events, outcomes, perspectives and other relevant information on gender responsive procurement.
UN Women Eastern and Southern Africa Regional newsletter of April 2016 The highlights of this issue: Transformational Leadership Training Equips Ethiopian Women to Transform Institutions:The Story of Mrs. Fikre Mulugeta of Ahmara Regional Council Uganda agrees on Gender Statistics to accelerate Sustainable Development Goals Implementation UN Women and Africa UNiTE Launch "Violence Thrives in our Silence" Documentary The Time is NOW: High Level Panel on...