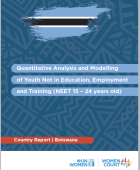 This study focuses on Botswana and forms part of a series covering 9 countries in East and Southern Africa. It uses existing statistical data to identify the factors that determine whether a young woman or man (aged 15-24) are not in employment, education or training.
This publication shows preliminary results and promising practices to support women's economic empowerment and strengthen resilience in rural areas by promoting women's access to land, finance, skills and technology for climate resilience and markets in West and Central Africa.
This New Generation of the NAP on WPS focuses on five pillars for implementation (1) Prevention, (2) Protection, (3) Participation, (4) Relief and Recovery (5) Coordination and Accountability.