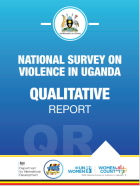 The qualitative component of the Women's Health and Life Experiences study was designed to complement the larger survey on prevalence which seeks to generate reliable estimates of the prevalence of different forms of Violence Against Women and girls (VAWG), provide detailed information on the impacts of VAWG, and examine women's attitudes to violence, how women cope with violence, and the risk factors associated with VAWG. It provides contextual information on women and community perspectives and experiences of Violence against women and girls (VAWG).
The Third Plan for National Statistical Development (PNSD III) is the national framework for guiding statistical production and development in Uganda for FY2020/21 to FY2024/25 in keeping with the Third National Development Plan (NDP III), regional, and global agendas.
This New Generation of the NAP on WPS focuses on five pillars for implementation (1) Prevention, (2) Protection, (3) Participation, (4) Relief and Recovery (5) Coordination and Accountability.