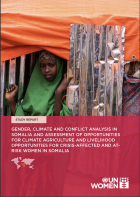 Despite the gender, climatic and conflict situation in Somalia, there are opportunities to ensure crop farming and livestock rearing. Women's participation in agricultural activities also varies depending on where they live. Women living in their regular settings were more likely to participate in agriculture compared to their counterparts who live in IDP settings. The research is aimed at promoting women's resilience to climate and enhancing livelihoods.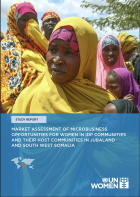 Empowering women in the economy and closing gender gaps in the workspace is key to achieving the 2030 Agenda for Sustainable Development and achieving the Sustainable Development Goals in Somalia. The host community landowners and IDP casual laborers can jointly build their skills in climate-smart agriculture that can benefit the productivity of farms whilst also building the knowledge and skill set of IDPs.
As COVID-19 spreads in Africa, informal workers are hard-pressed to comply with social distancing or confinement measures, as they need to work to provide for their basic needs. Here are three things that UN Women country offices can advocate for to ensure that women working in the informal economy do not fall through the cracks in the current crisis.