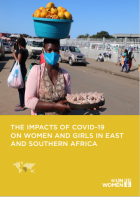 This study builds on UN Women's achievements and experience in supporting women and girls during the COVID pandemic within the East and Southern Africa Region and other parts of the world.
This analytical study covered ten countries in the region and looked at issues of access to justice for women and girls in East and Southern Africa.
The crisis caused by the COVID-19 pandemic must be viewed with a gendered lens to protect women and girls and address the increase in VAWG during this pandemic. In Ethiopia, this can be accomplished with accelerated and concerted efforts of the Government and the United Nations, in partnership with other development agencies and national civil society organizations. This Policy brief presents overview of the increased in GBV in Ethiopia and give recommendations on measures to be taken to address the issue.