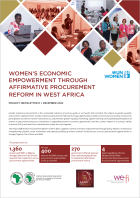 The Project Affirmative Procurement Reform in West Africa supports women economic empowerment through policy reforms, institutional strengthening of public sector institutions and capacity building of women-owned/-led businesses to access procurement opportunities in Senegal, Nigeria, Cote d'Ivoire and Mali. This newsletter is distributed every six months, covering the journey of the project implementation across the most important events, outcomes, perspectives and other relevant information on gender responsive procurement.
The UN Women WCARO annual report aims to share information about the regional office's activities on women empowerment and gender equality in 2020. The said year has been a particularly difficult year around the world with the COVID-19 pandemic. In West and Central Africa (WCA), women and girls were particularly vulnerable to the crisis. To counter these burdens and build medium and long- term recovery measures, the UN Women WCA Regional Office successfully provided multi-faceted assistance...
This brief presents emerging evidence on the role the private sector can play in promoting gender equality and women's empowerment in Nigeria by highlighting the key measures companies can take to move beyond traditional corporate social responsibility to combine profits with gender progress. Realizing the growing need for gender equality is also germane to the survival and development of girls and the building of healthy communities, a healthy society, and a healthy nation. The economic...