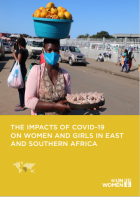 This study builds on UN Women's achievements and experience in supporting women and girls during the COVID pandemic within the East and Southern Africa Region and other parts of the world.
UN Women Kenya Annual report aims to share the results and lessons learned for 2020.
This edition addresses the Health issues of Women in Malawi and Senegal, Education in Burkina Faso and in Africa, Peace and Security in Cameroon and at African Union, Women in Agriculture in Mozambique and Ethiopia and Women Economque Empowerment across Africa.