"HOW-TO-DO" TOOLKIT for the UNCT-SWAP Gender Equality SCORECARD - West and Central Africa region.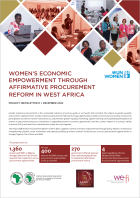 The Project Affirmative Procurement Reform in West Africa supports women economic empowerment through policy reforms, institutional strengthening of public sector institutions and capacity building of women-owned/-led businesses to access procurement opportunities in Senegal, Nigeria, Cote d'Ivoire and Mali. This newsletter is distributed every six months, covering the journey of the project implementation across the most important events, outcomes, perspectives and other relevant information on gender responsive procurement.
The R-GTG wishes to contribute to the efforts in progress to confront the current pandemic by sharing this note with the Coordinators residing in the region with the intention of encouraging and proposing tools to improve the consideration of the gender issue in the response to COVID-19. In this respect, it addresses the main risks connected to gender when considering the pandemic and makes a specific number of recommendations to respond to it.