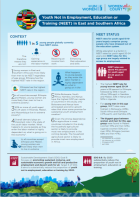 The study covers Botswana, Ethiopia, Kenya, Malawi, Mozambique, Namibia, Rwanda, South Africa, and Uganda. It finds that NEET rates in ESA are above 40 percent for youth in the 20-24 years age bracket, that young women in the region are disproportionally affected by NEET status regardless of their age group, and that this status is more likely to become a permanent state for young women than for young men.
The study identifies a number of challenges including inadequate normative frameworks and infrastructure to support statistical production, large time gaps between household surveys and censuses, limited dissemination and use of gender data and statistics across the NSS, and weak administrative data quality and systems in Mozambique.
The "UN Women impact stories series", updated quarterly, illustrates the human impact of UN Women's work across the world, highlighting the partnerships that make this work possible.