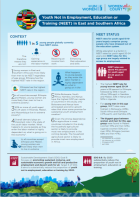 The study covers Botswana, Ethiopia, Kenya, Malawi, Mozambique, Namibia, Rwanda, South Africa, and Uganda. It finds that NEET rates in ESA are above 40 percent for youth in the 20-24 years age bracket, that young women in the region are disproportionally affected by NEET status regardless of their age group, and that this status is more likely to become a permanent state for young women than for young men.
The study identifies a number of challenges including inadequate normative frameworks and infrastructure to support statistical production, large time gaps between household surveys and censuses, limited dissemination and use of gender data and statistics across the NSS, and weak administrative data quality and systems in Mozambique.
This is a convening report for the Regional Sharefair on Gender and Resilience in Africa held by UN Women in collaboration with key partners in November 9th –10th 2016 at Safari Park Hotel, Nairobi, Kenya. Focusing on the main theme of "Strengthening Resilience by Empowering Women", the Sharefair provided a platform for sharing and learning, availed an opportunity to further explore the role of women in building and strengthening resilience and promoted dialogue and sharing of experiences on gender responsive resilience related programmes and policies in Africa. This is expected to accelerate development and humanitarian response and the overall achievement of the Sustainable Development Goals (SDGs). The Sharefair also endeavor to facilitate long term collaboration amongst regional stakeholders with the aim of identifying problems, using data and predictive methods and mobilizing support and resources to incubate, accelerate and scale effective solutions. The outcome of the two-day event was the creation of a strong regional network to amplify resilience solutions, sustaining change in policy and practice within relevant macroeconomic frameworks. Hundreds of participants gathered at the Sharefair to discuss interventions, innovations, good practices, evidence from research and documented data, legal frameworks and policies.