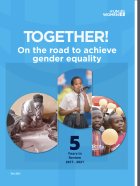 The five years in review publication captures the progress made from 2017 to 2021 across its different focus areas: Leadership and Political Participation, Women's Economic Empowerment, Ending Violence Against Women, Data and Statistics, HIV/AIDS and the response to the unfolding crisis caused by the COVID-19 pandemic.
The UN Women WCARO annual report aims to share information about the regional office's activities on women empowerment and gender equality in 2020. The said year has been a particularly difficult year around the world with the COVID-19 pandemic. In West and Central Africa (WCA), women and girls were particularly vulnerable to the crisis. To counter these burdens and build medium and long- term recovery measures, the UN Women WCA Regional Office successfully provided multi-faceted assistance...
This publication shows preliminary results and promising practices to support women's economic empowerment and strengthen resilience in rural areas by promoting women's access to land, finance, skills and technology for climate resilience and markets in West and Central Africa.