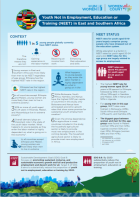 The study covers Botswana, Ethiopia, Kenya, Malawi, Mozambique, Namibia, Rwanda, South Africa, and Uganda. It finds that NEET rates in ESA are above 40 percent for youth in the 20-24 years age bracket, that young women in the region are disproportionally affected by NEET status regardless of their age group, and that this status is more likely to become a permanent state for young women than for young men.
The overall objective of the study was to conduct a mapping exercise of existing peace infrastructures in targeted five counties of Liberia and research their gender responsiveness. The research also assessed the mechanisms of coordination and intersection between the Palava Huts and the Peace Huts and other decentralized peace infrastructures, which should inform the implementation of the recommendations put forward by the Truth and Reconciliation Commission (TRC).
Founded in 2004, the National Peace Huts Women of Liberia helped women and former child soldiers to become agents of change in their communities following the country's civil war. The Peace Huts provide space for women's voices to be heard on peace-building, security, rule of law, and political and economic issues.