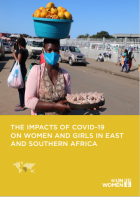 This study builds on UN Women's achievements and experience in supporting women and girls during the COVID pandemic within the East and Southern Africa Region and other parts of the world.
This publication describes the UN Women Rwanda Office's effort in dealing with Gender-Based Violence (GBV) victims using different approaches in both GBV prevention and response. It also provides success stories from different beneficiaries in relation to legal assistance which showed that in most cases it requires strong courage from the victims to bring the perpetrators to justice especially in the context of negative cultural beliefs, women's economic dependence, fear of discrimination and stigmatization among other challenges. The document also highlights the role of mobile legal clinic in increasing the proximity of legal services to the community including awareness-raising and legal literacy.
The UN Women WCARO annual report aims to share information about the regional office's activities on women empowerment and gender equality in 2020. The said year has been a particularly difficult year around the world with the COVID-19 pandemic. In West and Central Africa (WCA), women and girls were particularly vulnerable to the crisis. To counter these burdens and build medium and long- term recovery measures, the UN Women WCA Regional Office successfully provided multi-faceted assistance...