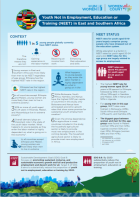 The study covers Botswana, Ethiopia, Kenya, Malawi, Mozambique, Namibia, Rwanda, South Africa, and Uganda. It finds that NEET rates in ESA are above 40 percent for youth in the 20-24 years age bracket, that young women in the region are disproportionally affected by NEET status regardless of their age group, and that this status is more likely to become a permanent state for young women than for young men.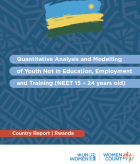 This study focuses on Rwanda and forms part of a series covering 9 countries in East and Southern Africa. It uses existing statistical data to identify the factors that determine whether a young woman or man (aged 15-24) are not in employment, education or training.
This report presents governments' approaches to the localization and implementation of the Sustainable Development Goals (SDGs) with specific reference to seven countries: Botswana, Ethiopia, Kenya, Malawi, Rwanda, Uganda and Zimbabwe. The report was developed through a collaborative process with selected governments via their representatives, UN Women country/multi-country offices and other stakeholders in East and Southern Africa. Initial data and information were collected from a...