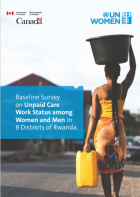 The baseline survey on unpaid care work status among women and men in eight districts of Rwanda seeks to understand the care-related dynamics in households, this study utilized both quantitative and qualitative research methodologies. Drawing on Oxfam's Household Care Survey (HCS) and the Harvard Analytical Framework (also referred to as the Gender Roles Framework). The survey helps to understand how women, men and children spend their time, how care activities are distributed in the household and the access that households have to basic public services and infrastructure that facilitate their everyday survival. The study also explored the social norms that shape power relations and gender division of care labor.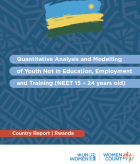 This study focuses on Rwanda and forms part of a series covering 9 countries in East and Southern Africa. It uses existing statistical data to identify the factors that determine whether a young woman or man (aged 15-24) are not in employment, education or training.
The UN Women WCARO annual report aims to share information about the regional office's activities on women empowerment and gender equality in 2020. The said year has been a particularly difficult year around the world with the COVID-19 pandemic. In West and Central Africa (WCA), women and girls were particularly vulnerable to the crisis. To counter these burdens and build medium and long- term recovery measures, the UN Women WCA Regional Office successfully provided multi-faceted assistance...