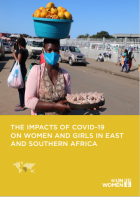 This study builds on UN Women's achievements and experience in supporting women and girls during the COVID pandemic within the East and Southern Africa Region and other parts of the world.
This New Generation of the NAP on WPS focuses on five pillars for implementation (1) Prevention, (2) Protection, (3) Participation, (4) Relief and Recovery (5) Coordination and Accountability.
This year's edition focuses on "The gender agenda in West and Central Africa target 2015: Progress on the horizon?" It showcases the developments in the advancement of gender equality from across West and Central Africa. Our latest magazine features a rich portfolio of 97 articles presenting UN Women key actions and results in our region.