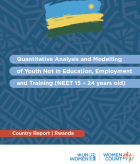 This study focuses on Rwanda and forms part of a series covering 9 countries in East and Southern Africa. It uses existing statistical data to identify the factors that determine whether a young woman or man (aged 15-24) are not in employment, education or training.
The UN Women WCARO annual report aims to share information about the regional office's activities on women empowerment and gender equality in 2020. The said year has been a particularly difficult year around the world with the COVID-19 pandemic. In West and Central Africa (WCA), women and girls were particularly vulnerable to the crisis. To counter these burdens and build medium and long- term recovery measures, the UN Women WCA Regional Office successfully provided multi-faceted assistance...
UN Women Eastern and Southern Africa Regional newsletter of April 2016 The highlights of this issue: Transformational Leadership Training Equips Ethiopian Women to Transform Institutions:The Story of Mrs. Fikre Mulugeta of Ahmara Regional Council Uganda agrees on Gender Statistics to accelerate Sustainable Development Goals Implementation UN Women and Africa UNiTE Launch "Violence Thrives in our Silence" Documentary The Time is NOW: High Level Panel on...