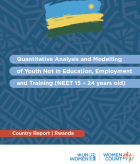 This study focuses on Rwanda and forms part of a series covering 9 countries in East and Southern Africa. It uses existing statistical data to identify the factors that determine whether a young woman or man (aged 15-24) are not in employment, education or training.
As COVID-19 spreads in Africa, informal workers are hard-pressed to comply with social distancing or confinement measures, as they need to work to provide for their basic needs. Here are three things that UN Women country offices can advocate for to ensure that women working in the informal economy do not fall through the cracks in the current crisis.
This is a convening report for the Regional Sharefair on Gender and Resilience in Africa held by UN Women in collaboration with key partners in November 9th –10th 2016 at Safari Park Hotel, Nairobi, Kenya. Focusing on the main theme of "Strengthening Resilience by Empowering Women", the Sharefair provided a platform for sharing and learning, availed an opportunity to further explore the role of women in building and strengthening resilience and promoted dialogue and sharing of experiences on gender responsive resilience related programmes and policies in Africa. This is expected to accelerate development and humanitarian response and the overall achievement of the Sustainable Development Goals (SDGs). The Sharefair also endeavor to facilitate long term collaboration amongst regional stakeholders with the aim of identifying problems, using data and predictive methods and mobilizing support and resources to incubate, accelerate and scale effective solutions. The outcome of the two-day event was the creation of a strong regional network to amplify resilience solutions, sustaining change in policy and practice within relevant macroeconomic frameworks. Hundreds of participants gathered at the Sharefair to discuss interventions, innovations, good practices, evidence from research and documented data, legal frameworks and policies.