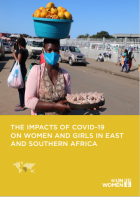 This study builds on UN Women's achievements and experience in supporting women and girls during the COVID pandemic within the East and Southern Africa Region and other parts of the world.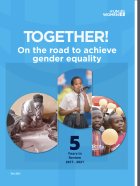 The five years in review publication captures the progress made from 2017 to 2021 across its different focus areas: Leadership and Political Participation, Women's Economic Empowerment, Ending Violence Against Women, Data and Statistics, HIV/AIDS and the response to the unfolding crisis caused by the COVID-19 pandemic.
The R-GTG wishes to contribute to the efforts in progress to confront the current pandemic by sharing this note with the Coordinators residing in the region with the intention of encouraging and proposing tools to improve the consideration of the gender issue in the response to COVID-19. In this respect, it addresses the main risks connected to gender when considering the pandemic and makes a specific number of recommendations to respond to it.