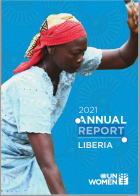 UN Women Liberia Annual Report for 2021 highlights activities and results of the organisation's interventions in supporting the Government of Liberia and civil society organisations (CSOs) to promote gender equality and advance the rights of women and girls on four main thematic areas, namely, Women's Political Participation, Leadership and Gender-sensitive Governance Systems; Women's Economic Empowerment; Ending Violence against Women and Girls; and Women, Peace and Security and Humanitarian Actions.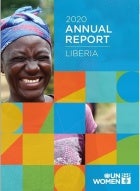 UN Women Liberia Annual Report for 2020 highlights the work that was accomplished by the country office in 2020 and documents success stories achieved by the organisation and its implementing partners.
The UN Women WCARO annual report aims to share information about the regional office's activities on women empowerment and gender equality in 2020. The said year has been a particularly difficult year around the world with the COVID-19 pandemic. In West and Central Africa (WCA), women and girls were particularly vulnerable to the crisis. To counter these burdens and build medium and long- term recovery measures, the UN Women WCA Regional Office successfully provided multi-faceted assistance...