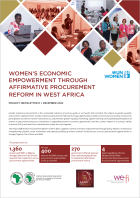 The Project Affirmative Procurement Reform in West Africa supports women economic empowerment through policy reforms, institutional strengthening of public sector institutions and capacity building of women-owned/-led businesses to access procurement opportunities in Senegal, Nigeria, Cote d'Ivoire and Mali. This newsletter is distributed every six months, covering the journey of the project implementation across the most important events, outcomes, perspectives and other relevant information on gender responsive procurement.
In this issue : Adoption of the 2nd National Action Plan for Resolution 1325 (2000) UN Women - Japan partnership Government Collaboration Gender and Development Assistance Mini UN Women Executive Board Women & Political Participation «Musow aw ka Waati Sera!» Gender & the Defense and Security Forces Meeting with a female soldier Gender Forum : « Musow Bulon» Gender & Local Development Echoes from the Regions VIP Gender Fight against...
This year's edition focuses on "The gender agenda in West and Central Africa target 2015: Progress on the horizon?" It showcases the developments in the advancement of gender equality from across West and Central Africa. Our latest magazine features a rich portfolio of 97 articles presenting UN Women key actions and results in our region.