"HOW-TO-DO" TOOLKIT for the UNCT-SWAP Gender Equality SCORECARD - West and Central Africa region.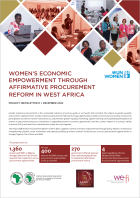 The Project Affirmative Procurement Reform in West Africa supports women economic empowerment through policy reforms, institutional strengthening of public sector institutions and capacity building of women-owned/-led businesses to access procurement opportunities in Senegal, Nigeria, Cote d'Ivoire and Mali. This newsletter is distributed every six months, covering the journey of the project implementation across the most important events, outcomes, perspectives and other relevant information on gender responsive procurement.
As COVID-19 spreads in Africa, informal workers are hard-pressed to comply with social distancing or confinement measures, as they need to work to provide for their basic needs. Here are three things that UN Women country offices can advocate for to ensure that women working in the informal economy do not fall through the cracks in the current crisis.