This analytical study covered ten countries in the region and looked at issues of access to justice for women and girls in East and Southern Africa.
The purpose of this study was to develop a variety of texts documenting case studies of good and promising practices in the area of the protection of rights and access to services for women with disabilities in East and Southern Africa (ESA) during the COVID-19 pandemic.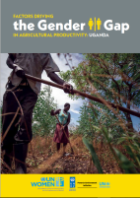 The study identifies policy proposals —consistent with Uganda's Second National Development Plan, Public Finance Management Act and Agriculture Sector Strategic Plan — to confront gender stereotypes and address women's time poverty and lack of assets, the lack of attention to gender-responsive climate-smart agricultural extension services, and the need to reform key statistical instruments to better capture gender relations.