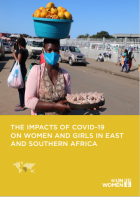 This study builds on UN Women's achievements and experience in supporting women and girls during the COVID pandemic within the East and Southern Africa Region and other parts of the world.
This analytical study covered ten countries in the region and looked at issues of access to justice for women and girls in East and Southern Africa.
The purpose of this study was to develop a variety of texts documenting case studies of good and promising practices in the area of the protection of rights and access to services for women with disabilities in East and Southern Africa (ESA) during the COVID-19 pandemic.