The publication aims to provide information that helps prepare the youth for an inclusive, environment sensitive, and resilient approach to productive livelihoods.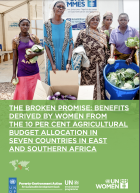 The publication aims to serve as an advocacy report on gender issues and contributing to efforts in strengthening regional norms and policies on women and youth's economic empowerment.
This brief presents emerging evidence on the role the private sector can play in promoting gender equality and women's empowerment in Nigeria by highlighting the key measures companies can take to move beyond traditional corporate social responsibility to combine profits with gender progress. Realizing the growing need for gender equality is also germane to the survival and development of girls and the building of healthy communities, a healthy society, and a healthy nation. The economic...