Drawing on an assessment of the needs of rural women in Senegal, Mali, Liberia, Malawi and Haiti, and on an ecosystem mapping and market dialogue process, these infographics illustrate the challenges that rural women face to access resilience-building services that are tailored to their needs, and provide insights into gender-responsive policy measures and innovative solutions to respond to the women's needs and build their resilience to climate change and disasters.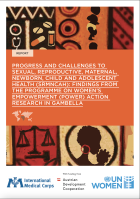 UNWomen, in collaboration with International Medical Corps (IMC), has been implementing a Programme on Women's Empowerment in Sexual, Reproductive, Maternal, Newborn, and Child and Adolescent Health (SRMNCAH) Rights (POWER) in humanitarian settings in Gambella Region. The purpose of the action research is to document the progress on the SRMNCAH programme implemented in the humanitarian setting, lessons learned from it, gaps in it and efforts required for it. The findings will better inform UN Women and partners working in a humanitarian setting on the current progress and the efforts required to improve SRMNCAH services in the refugee and host communities.
This publication highlights findings from the Zanzibar SDGs Gender Indicators Study in the form of infographics. The infographics showcase findings from each of the sectors covered in the report namely: Poverty and Hunger, Health, Decent Work, Quality Education, Gender Equality, Key Messages and the COVID-19 Context, and Recommendations.