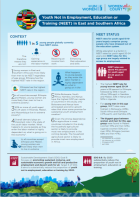 The study covers Botswana, Ethiopia, Kenya, Malawi, Mozambique, Namibia, Rwanda, South Africa, and Uganda. It finds that NEET rates in ESA are above 40 percent for youth in the 20-24 years age bracket, that young women in the region are disproportionally affected by NEET status regardless of their age group, and that this status is more likely to become a permanent state for young women than for young men.
This factsheet offers some insights into migrant women's experiences in Niger, based on the limited data that is available on this topic. It was prouced as part of the Making Migration Safe for Women programme which aims to ensure that migration is safe for women migrating from, into and through Niger and that international norms and standards for protecting and promoting migrant women's rights are strengthened. Read/Download : EN
The UN Women Tanzania study involved desk review, key informant interviews with the government and CSOs, an analysis of the literature of relevant laws and policies on customary practices as well as a review of land governance and land administration practices in Tanzania was done in August 2017. The study also highlights recommendations to advance women's land rights and tenure security in the context of SDGs.