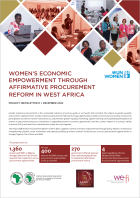 The Project Affirmative Procurement Reform in West Africa supports women economic empowerment through policy reforms, institutional strengthening of public sector institutions and capacity building of women-owned/-led businesses to access procurement opportunities in Senegal, Nigeria, Cote d'Ivoire and Mali. This newsletter is distributed every six months, covering the journey of the project implementation across the most important events, outcomes, perspectives and other relevant information on gender responsive procurement.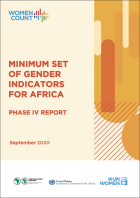 The purpose of the Global Minimum Set of Gender Indicators is to develop a common statistical measurement framework that could be used for the national production and international compilation of gender statistics and to track progress across countries and regions.
The transition to a green economy will create many new jobs around the world, including in sub-Saharan Africa. But will women share-in these new jobs, and will the economic transformation help them move into higher-paid, more stable jobs that require more education and skills? The short answer is "yes" – provided countries adopt strong policies and programmes to make it happen. The green economy transition is attracting attention in policy circles but its potential gender...