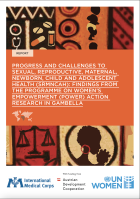 UNWomen, in collaboration with International Medical Corps (IMC), has been implementing a Programme on Women's Empowerment in Sexual, Reproductive, Maternal, Newborn, and Child and Adolescent Health (SRMNCAH) Rights (POWER) in humanitarian settings in Gambella Region. The purpose of the action research is to document the progress on the SRMNCAH programme implemented in the humanitarian setting, lessons learned from it, gaps in it and efforts required for it. The findings will better inform UN Women and partners working in a humanitarian setting on the current progress and the efforts required to improve SRMNCAH services in the refugee and host communities.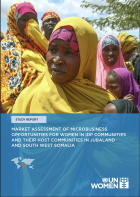 Empowering women in the economy and closing gender gaps in the workspace is key to achieving the 2030 Agenda for Sustainable Development and achieving the Sustainable Development Goals in Somalia. The host community landowners and IDP casual laborers can jointly build their skills in climate-smart agriculture that can benefit the productivity of farms whilst also building the knowledge and skill set of IDPs.
The report draws on analysis of case studies both at national and regional level as a means of identifying targeted interventions on SDGs and GEWE. Accordingly, this publication has mapped all the 17 SDGs within the GEWE agenda including the various ways in which women and girls will remain key to the attainment of the global goals.