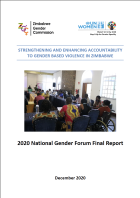 The Zimbabwe Gender Forum Report discusses topical gender issues emerging from the 2020 annual gender forum held towards the end of 2020. The report aims to inform policy engagements on issues discussed.
The transition to a green economy will create many new jobs around the world, including in sub-Saharan Africa. But will women share-in these new jobs, and will the economic transformation help them move into higher-paid, more stable jobs that require more education and skills? The short answer is "yes" – provided countries adopt strong policies and programmes to make it happen. The green economy transition is attracting attention in policy circles but its potential gender...
As a strategic step towards increasing gender data production and its use in reaching women and girls, Uganda developed these guidelines to govern the use of data from non-traditional sources such as civil society organizations (CSOs) and the private sector to complement official statistics.