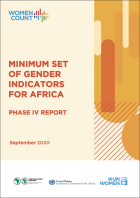 The purpose of the Global Minimum Set of Gender Indicators is to develop a common statistical measurement framework that could be used for the national production and international compilation of gender statistics and to track progress across countries and regions.
The policy paper assesses the state of Gender Based Violence (GBV) in Africa in the context of the COVID-19 pandemic. Informed by evidence from the five African Union (AU) regions, it outlines some of the initiatives implemented in AU Member States. The paper also proposes recommendations towards multi-sectoral response and recovery efforts that address GBV as well as the related needs of women and girls in Africa.
A statistical analysis based on existing data sources of gender inequality in Ethiopia.