The current drought response in Ethiopia is being scaled up across sectors, including food security, nutrition assistance, provision of safe water and sanitation, and livelihood protection. In addition, other urgent humanitarian assistance to drought- stricken areas such as agriculture and livestock support for pastoralist communities are also being increased. Nonetheless, the needs of women and girls may not be met due to a number of compounding factors such as the breakdown of key services which are critical to the health, protection, and recovery of women and girls; weakened informal and formal protection and accountability mechanisms; disrupted livelihoods, increased displacement, power imbalances, and limited access to resources.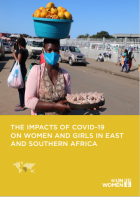 This study builds on UN Women's achievements and experience in supporting women and girls during the COVID pandemic within the East and Southern Africa Region and other parts of the world.
The policy paper assesses the state of Gender Based Violence (GBV) in Africa in the context of the COVID-19 pandemic. Informed by evidence from the five African Union (AU) regions, it outlines some of the initiatives implemented in AU Member States. The paper also proposes recommendations towards multi-sectoral response and recovery efforts that address GBV as well as the related needs of women and girls in Africa.