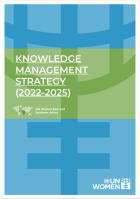 Key initiatives in the ESA KM Strategy (2022-2025) include sustaining the review and update of country gender equality profiles by all the 13 countries in the region, increasing momentum on the use of established KM systems and tools; institutional learning; quantitative and qualitative research and analyses on GEWE; capacity strengthening for R/M/COs on KM interventions; quality assurance processes of knowledge products; evidenced based advocacy and documentation and development and repackaging of knowledge products.

The current drought response in Ethiopia is being scaled up across sectors, including food security, nutrition assistance, provision of safe water and sanitation, and livelihood protection. In addition, other urgent humanitarian assistance to drought- stricken areas such as agriculture and livestock support for pastoralist communities are also being increased. Nonetheless, the needs of women and girls may not be met due to a number of compounding factors such as the breakdown of key services which are critical to the health, protection, and recovery of women and girls; weakened informal and formal protection and accountability mechanisms; disrupted livelihoods, increased displacement, power imbalances, and limited access to resources.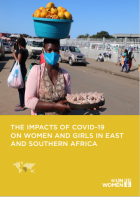 This study builds on UN Women's achievements and experience in supporting women and girls during the COVID pandemic within the East and Southern Africa Region and other parts of the world.