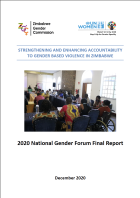 The Zimbabwe Gender Forum Report discusses topical gender issues emerging from the 2020 annual gender forum held towards the end of 2020. The report aims to inform policy engagements on issues discussed.
This advocacy brief accompanies country notes presenting the results of studies conducted by UN Women on the fiscal and employment benefits of investing in universal free childcare in Nigeria, Senegal, and Cote D'Ivoire. This brief is meant to provide UN Women country offices with ideas of how to leverage the country notes for policy dialogue and reform at the country level. View/Download : EN
The African Continental Free Trade Area (AfCFTA) an opportunity for growth and prosperity in Africa. However, because of pre-existing inequalities in African economies, the agreement's benefits will not be distributed equally along gender lines. As the AfCFTA Secretariat is starting to draft a Women in Trade Protocol, it is important that women across the continent participate actively in the process to voice their views, interests, and needs. This advocacy brief highlights 9 important...