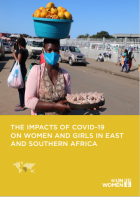 This study builds on UN Women's achievements and experience in supporting women and girls during the COVID pandemic within the East and Southern Africa Region and other parts of the world.
The publication presents UN Women Ethiopia key results on Gender Equality and Women's Empowerment (GEWE). It highlights thevaluable collaboration with government institutions, development partners, regional organisations, UN Agencies and CSOs as key approach for GEWE's accomplishments.
The ten knowledge products provide practical, evidence-based guidance for UN Women staff in various programming areas and organizational priorities such as Women's Leadership and Political Participation, Violence against Women, Women Economic Empowerment, Resource Based Management (RBM), Resource Mobilization, Partnerships, Women in Humanitarian Action among others.