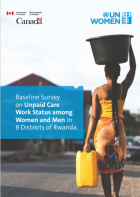 The baseline survey on unpaid care work status among women and men in eight districts of Rwanda seeks to understand the care-related dynamics in households, this study utilized both quantitative and qualitative research methodologies. Drawing on Oxfam's Household Care Survey (HCS) and the Harvard Analytical Framework (also referred to as the Gender Roles Framework). The survey helps to understand how women, men and children spend their time, how care activities are distributed in the household and the access that households have to basic public services and infrastructure that facilitate their everyday survival. The study also explored the social norms that shape power relations and gender division of care labor.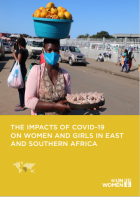 This study builds on UN Women's achievements and experience in supporting women and girls during the COVID pandemic within the East and Southern Africa Region and other parts of the world.
This study revealed various perceptions of social norms around VAWG in Malawi. Particularly, it shows how pervasive social norms support gender inequality and VAWG, including harmful practices. The study focused on five districts – Dedza, Karonga, Mangochi, Mzimba and Salima – in Malawi. This study can be used to inform policy dialogue and programme development, including where and how UN Women and its partners can implement behaviour change projects aimed at promoting favourable social norms and attitudes at community levels, and to formulate key messages for communication initiatives on women's rights, gender equality and VAWG.