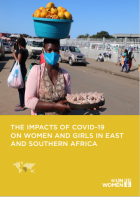 This study builds on UN Women's achievements and experience in supporting women and girls during the COVID pandemic within the East and Southern Africa Region and other parts of the world.
The policy paper assesses the state of Gender Based Violence (GBV) in Africa in the context of the COVID-19 pandemic. Informed by evidence from the five African Union (AU) regions, it outlines some of the initiatives implemented in AU Member States. The paper also proposes recommendations towards multi-sectoral response and recovery efforts that address GBV as well as the related needs of women and girls in Africa.
This policy paper highlights the emerging lessons and key priority actions drawn from UN Women–led child marriage programs in Malawi and Zambia that will be instructive to existing and future interventions across Africa. The paper is also timely as it recognizes the need for deliberate actions to ensure that COVID-19 does not reverse the gains made to end child marriages in Africa.