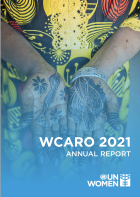 2021 marked the end of the latest UN Women Strategic Plan, and during the year UN Women's West and Central Africa Regional Office (WCARO) and Country Offices/Non-Resident Agencies continued to strengthen a comprehensive set of global norms, policies, and standards on gender equality and the empowerment of women; help end all forms of violence against women and girls; foster women's economic empowerment; encourage and support women to lead; facilitate gender mainstreaming; and support women's participation in peacebuilding and resilience efforts. Throughout the year, the COVID-19 pandemic continued to impact West and Central Africa, and women in the region were particularly vulnerable to the crisis.
The UN Women WCARO annual report aims to share information about the regional office's activities on women empowerment and gender equality in 2020. The said year has been a particularly difficult year around the world with the COVID-19 pandemic. In West and Central Africa (WCA), women and girls were particularly vulnerable to the crisis. To counter these burdens and build medium and long- term recovery measures, the UN Women WCA Regional Office successfully provided multi-faceted assistance...
UN Women East and Southern Africa continues to STEP IT UP for gender equality on a daily basis to give voice to women and girls who are still challenged with the violence, injustice, unequal opportunities and prejudices because of their gender.