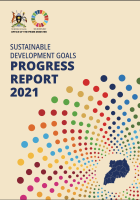 This report presents the progress in the implementation of the SDGs in Uganda as of the end of 2021. It specifically provides a detailed analysis of the SDGs implementation progress as of the end of 2021; reviews the progress made on the implementation of the six recommended actions in the 2020 Voluntary National Review Report, and brings together the latest data and highlights progress made on SDGs regarding coordination, implementation, monitoring, and reporting at national and local government levels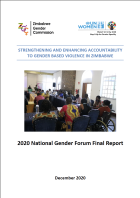 The Zimbabwe Gender Forum Report discusses topical gender issues emerging from the 2020 annual gender forum held towards the end of 2020. The report aims to inform policy engagements on issues discussed.
The UN Women WCARO annual report aims to share information about the regional office's activities on women empowerment and gender equality in 2020. The said year has been a particularly difficult year around the world with the COVID-19 pandemic. In West and Central Africa (WCA), women and girls were particularly vulnerable to the crisis. To counter these burdens and build medium and long- term recovery measures, the UN Women WCA Regional Office successfully provided multi-faceted assistance...