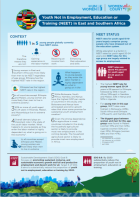 The study covers Botswana, Ethiopia, Kenya, Malawi, Mozambique, Namibia, Rwanda, South Africa, and Uganda. It finds that NEET rates in ESA are above 40 percent for youth in the 20-24 years age bracket, that young women in the region are disproportionally affected by NEET status regardless of their age group, and that this status is more likely to become a permanent state for young women than for young men.
It is a reality that our region carries the highest prevalence of child marriage and female genital mutilation in the world, impacting millions of our girls. These harmful traditional practices have devastating impact including loss of life, risk of disease such as fistula, loss of education and life opportunities, trauma and other psycho-social impacts resulting in deepening poverty and perpetuating a cycle of abuse. This calls on us as traditional and religious leaders to urgently assume our role as protectors of our children. The COVID-19 pandemic has further exacerbated the prevalence of genderbased violence in our countries and communities.
This brief presents emerging evidence on the role the private sector can play in promoting gender equality and women's empowerment in Nigeria by highlighting the key measures companies can take to move beyond traditional corporate social responsibility to combine profits with gender progress. Realizing the growing need for gender equality is also germane to the survival and development of girls and the building of healthy communities, a healthy society, and a healthy nation. The economic...