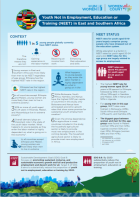 The study covers Botswana, Ethiopia, Kenya, Malawi, Mozambique, Namibia, Rwanda, South Africa, and Uganda. It finds that NEET rates in ESA are above 40 percent for youth in the 20-24 years age bracket, that young women in the region are disproportionally affected by NEET status regardless of their age group, and that this status is more likely to become a permanent state for young women than for young men.
This brief presents emerging evidence on the role the private sector can play in promoting gender equality and women's empowerment in Nigeria by highlighting the key measures companies can take to move beyond traditional corporate social responsibility to combine profits with gender progress. Realizing the growing need for gender equality is also germane to the survival and development of girls and the building of healthy communities, a healthy society, and a healthy nation. The economic...
This edition addresses the Health issues of Women in Malawi and Senegal, Education in Burkina Faso and in Africa, Peace and Security in Cameroon and at African Union, Women in Agriculture in Mozambique and Ethiopia and Women Economque Empowerment across Africa.