"HOW-TO-DO" TOOLKIT for the UNCT-SWAP Gender Equality SCORECARD - West and Central Africa region.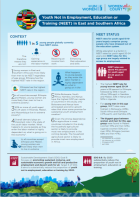 The study covers Botswana, Ethiopia, Kenya, Malawi, Mozambique, Namibia, Rwanda, South Africa, and Uganda. It finds that NEET rates in ESA are above 40 percent for youth in the 20-24 years age bracket, that young women in the region are disproportionally affected by NEET status regardless of their age group, and that this status is more likely to become a permanent state for young women than for young men.
The ten knowledge products provide practical, evidence-based guidance for UN Women staff in various programming areas and organizational priorities such as Women's Leadership and Political Participation, Violence against Women, Women Economic Empowerment, Resource Based Management (RBM), Resource Mobilization, Partnerships, Women in Humanitarian Action among others.