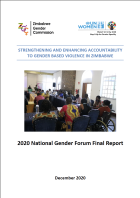 The Zimbabwe Gender Forum Report discusses topical gender issues emerging from the 2020 annual gender forum held towards the end of 2020. The report aims to inform policy engagements on issues discussed.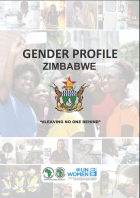 The Gender Profile gives an overview of Gender Gaps by assessing policy and legal frameworks, the institutional and human resources capacity, the socio-economic impacts of Covid-19 on women and men and recommends key areas of strategic actions to address gender gaps and inequalities
The ten knowledge products provide practical, evidence-based guidance for UN Women staff in various programming areas and organizational priorities such as Women's Leadership and Political Participation, Violence against Women, Women Economic Empowerment, Resource Based Management (RBM), Resource Mobilization, Partnerships, Women in Humanitarian Action among others.