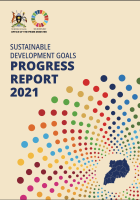 This report presents the progress in the implementation of the SDGs in Uganda as of the end of 2021. It specifically provides a detailed analysis of the SDGs implementation progress as of the end of 2021; reviews the progress made on the implementation of the six recommended actions in the 2020 Voluntary National Review Report, and brings together the latest data and highlights progress made on SDGs regarding coordination, implementation, monitoring, and reporting at national and local government levels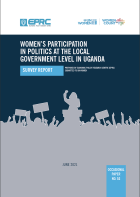 The study was undertaken using Local Government (LG)'s election data from the Electoral Commission and survey data collected through key informant interviews with political leaders at the LG levels and focus group discussions with community people. The survey was conducted in Gulu, Nwoya, and Pader in the North; Napak, and Morotoin Karamoja sub-region; Pallisa and Bugiri in the East; and Kiryandongo in the West. Survey data was analysed using both quantitative (descriptive statistics) and qualitative techniques, which involved qualitative data from focus group discussions and open-ended survey responses from individual respondents was analysed through the following steps: transcribing the qualitative responses; pooling the transcribed responses from the various FGDs according to specific research questions; identifying the main ideas that occur in the answers to each question and creating themes; and writing narratives to describe the themes.
The ten knowledge products provide practical, evidence-based guidance for UN Women staff in various programming areas and organizational priorities such as Women's Leadership and Political Participation, Violence against Women, Women Economic Empowerment, Resource Based Management (RBM), Resource Mobilization, Partnerships, Women in Humanitarian Action among others.