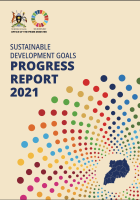 This report presents the progress in the implementation of the SDGs in Uganda as of the end of 2021. It specifically provides a detailed analysis of the SDGs implementation progress as of the end of 2021; reviews the progress made on the implementation of the six recommended actions in the 2020 Voluntary National Review Report, and brings together the latest data and highlights progress made on SDGs regarding coordination, implementation, monitoring, and reporting at national and local government levels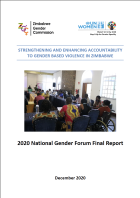 The Zimbabwe Gender Forum Report discusses topical gender issues emerging from the 2020 annual gender forum held towards the end of 2020. The report aims to inform policy engagements on issues discussed.
The ten knowledge products provide practical, evidence-based guidance for UN Women staff in various programming areas and organizational priorities such as Women's Leadership and Political Participation, Violence against Women, Women Economic Empowerment, Resource Based Management (RBM), Resource Mobilization, Partnerships, Women in Humanitarian Action among others.