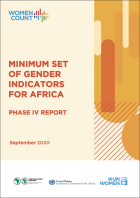 The purpose of the Global Minimum Set of Gender Indicators is to develop a common statistical measurement framework that could be used for the national production and international compilation of gender statistics and to track progress across countries and regions.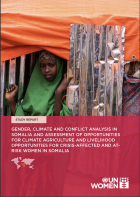 Despite the gender, climatic and conflict situation in Somalia, there are opportunities to ensure crop farming and livestock rearing. Women's participation in agricultural activities also varies depending on where they live. Women living in their regular settings were more likely to participate in agriculture compared to their counterparts who live in IDP settings. The research is aimed at promoting women's resilience to climate and enhancing livelihoods.
This edition addresses the Health issues of Women in Malawi and Senegal, Education in Burkina Faso and in Africa, Peace and Security in Cameroon and at African Union, Women in Agriculture in Mozambique and Ethiopia and Women Economque Empowerment across Africa.