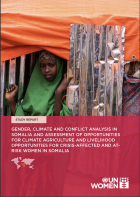 Despite the gender, climatic and conflict situation in Somalia, there are opportunities to ensure crop farming and livestock rearing. Women's participation in agricultural activities also varies depending on where they live. Women living in their regular settings were more likely to participate in agriculture compared to their counterparts who live in IDP settings. The research is aimed at promoting women's resilience to climate and enhancing livelihoods.
From 29 November to 4 December 2015, close to 10,000 of the world's leading scientists, policy makers, activists, people living with HIV, government leaders, as well as a number of Heads of State and civil society representatives are meeting in Harare, Zimbabwe to deliberate on ending AIDS by 2030 in Africa at the 18th session of the International Conference on AIDS and STIs in Africa (ICASA).
This edition addresses the Health issues of Women in Malawi and Senegal, Education in Burkina Faso and in Africa, Peace and Security in Cameroon and at African Union, Women in Agriculture in Mozambique and Ethiopia and Women Economque Empowerment across Africa.