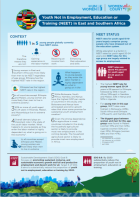 The study covers Botswana, Ethiopia, Kenya, Malawi, Mozambique, Namibia, Rwanda, South Africa, and Uganda. It finds that NEET rates in ESA are above 40 percent for youth in the 20-24 years age bracket, that young women in the region are disproportionally affected by NEET status regardless of their age group, and that this status is more likely to become a permanent state for young women than for young men.
Buy from Women Enterprise Platform brochure
From 29 November to 4 December 2015, close to 10,000 of the world's leading scientists, policy makers, activists, people living with HIV, government leaders, as well as a number of Heads of State and civil society representatives are meeting in Harare, Zimbabwe to deliberate on ending AIDS by 2030 in Africa at the 18th session of the International Conference on AIDS and STIs in Africa (ICASA).