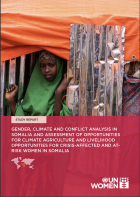 Despite the gender, climatic and conflict situation in Somalia, there are opportunities to ensure crop farming and livestock rearing. Women's participation in agricultural activities also varies depending on where they live. Women living in their regular settings were more likely to participate in agriculture compared to their counterparts who live in IDP settings. The research is aimed at promoting women's resilience to climate and enhancing livelihoods.
This publication describes the UN Women Rwanda Office's effort in dealing with Gender-Based Violence (GBV) victims using different approaches in both GBV prevention and response. It also provides success stories from different beneficiaries in relation to legal assistance which showed that in most cases it requires strong courage from the victims to bring the perpetrators to justice especially in the context of negative cultural beliefs, women's economic dependence, fear of discrimination and stigmatization among other challenges. The document also highlights the role of mobile legal clinic in increasing the proximity of legal services to the community including awareness-raising and legal literacy.
This edition addresses the Health issues of Women in Malawi and Senegal, Education in Burkina Faso and in Africa, Peace and Security in Cameroon and at African Union, Women in Agriculture in Mozambique and Ethiopia and Women Economque Empowerment across Africa.